WFEO GREE Women in Engineering Award 2020

on Tuesday April 8 2021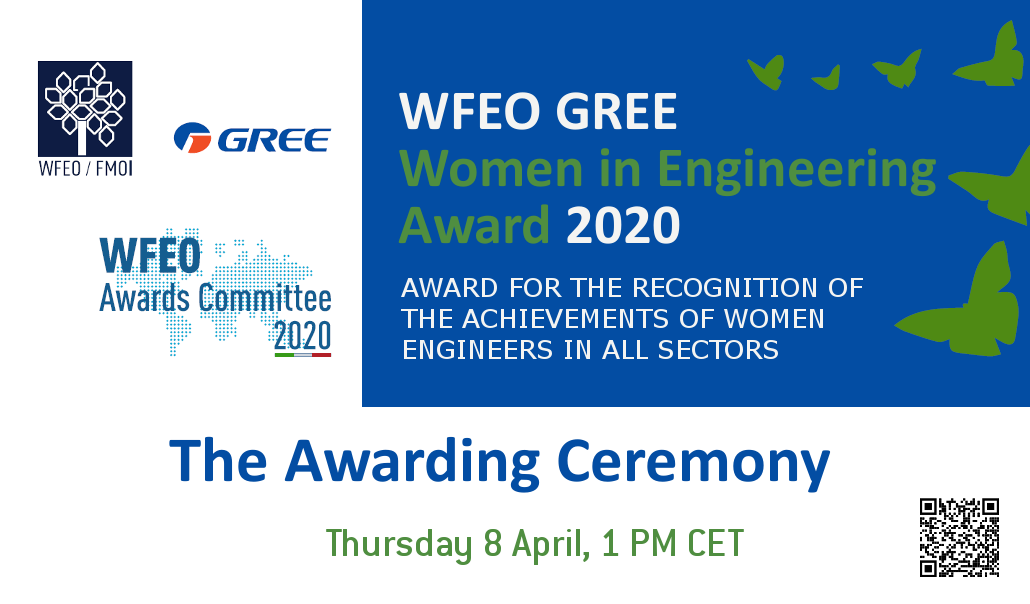 The WFEO GREE Women in Engineering Award is awarded every year.
Nominations were invited for outstanding female engineers who have made significant contributions to engineering. Nominations have been submitted by an institution such as a university, an engineering institute or association, a corporate entity, or a national and international organization.
The International Jury consisted of:
Ms. Maria Prieto Laffargue, WFEO Past President (Chair)
Ms. Peggy Oti Boateng, UNESCO Director for science policy and capacity building
José Vieira, WFEO President elect
Ms. Blair, representing Gree
Ms. Ania Lopez as Chair of the Awards Committee (observer)
The Jury completed its evaluations on an anonymized summary table, that was prepared by the WFEO Secretariat and the Chair of the Awards Committee and Member of the Executive Council Ms. Ania Lopez.
The 2020 WFEO GREE Women in Engineering Award winner Ms. Elvira Fortunato from Portugal. She will be invited to attend the World Engineering Summit 2021 and the WFEO General Assembly in San José, Costa Rica.
The WFEO Awards Committee recognized with Highly Commended Entries / Special Merit, the four next women, thus extending this important award on a multi-continental level.
They will be invited to give a short speech at the awarding ceremony.
Ms. Harriette Amissah from Ghana.
Ms. Magali Anderson from France.
Ms. Rosalind Archer from New Zealand.
Ms. Sabah Mashaly from Egypt.
The Awarding Ceremony will be organized on 8 April, 1 PM CET : https://youtu.be/qH1vAYrxSjk?t=3150
Dernière modification : 12/04/2021